Event management simplified.
Say goodbye to endless spreadsheets, messy paperwork, and clunky payment processors. Scadlr keeps you organized, so you can focus on what you truly love!
We've got everything covered!
Customers can easily view and book events right from your website using the Scadlr calendar.
Scadlr tracks all registrations & cancelations for you! Plus enjoy access to Google Analytics!
Built-in Stripe payment processing makes accepting payments and issuing refunds easier than ever!
Waitlist Management
Fill every seat with no hassle! Allow your customers to join a waitlist and notify them when a spot becomes available.
Automated Rosters
Make sure you know who is attending your events. Our rosters update in real time .
Email Communication
Send out automated emails to ensure customers stay up to date on upcoming events.
Customize Events
Set pricing, registration restrictions, discounts, refund policies, event descriptions, photos and more.
Safe & Secure
Accept card payments with confidence through our partner payment processor, Stripe.
Robust Reporting
Spend less time creating spreadsheets, and more time turning powerful data into business growth.
Manage Staff
Assign staff members to events, and display instructor information right on the customer calendar.
Sell Merchandise
Sell products and gift cards on your online store for pick-up or delivery.
Scadlr has improved our business tremendously, making the signup process simple for our customers.  No more piles of waivers, manual payments, or scheduling miscommunications. Internal communication with staff scheduling has been a breeze!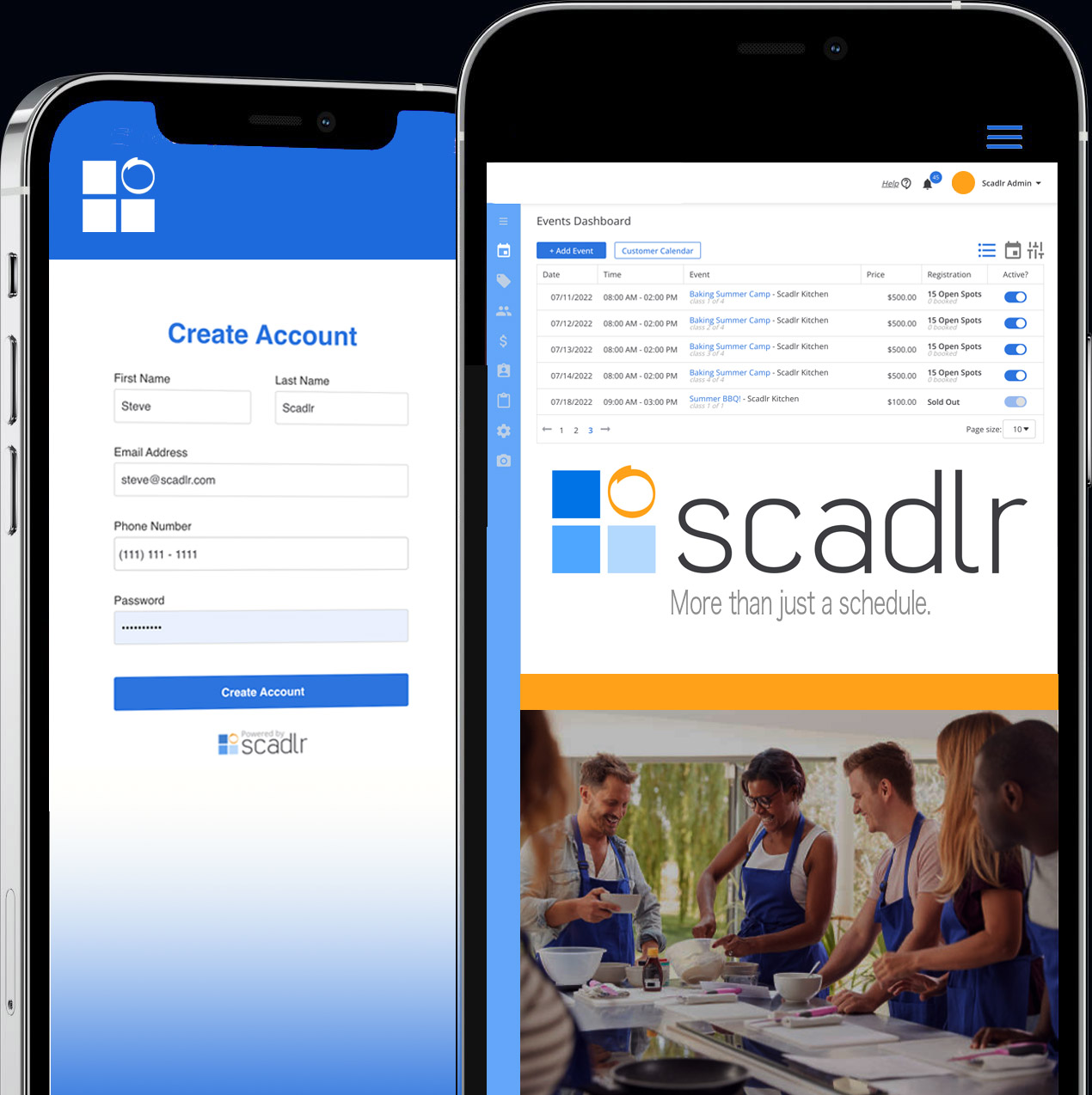 Got questions? We have answers.
Got Questions? We have answers!
Let's chat with Scadlr team about your business needs on a live demo call.